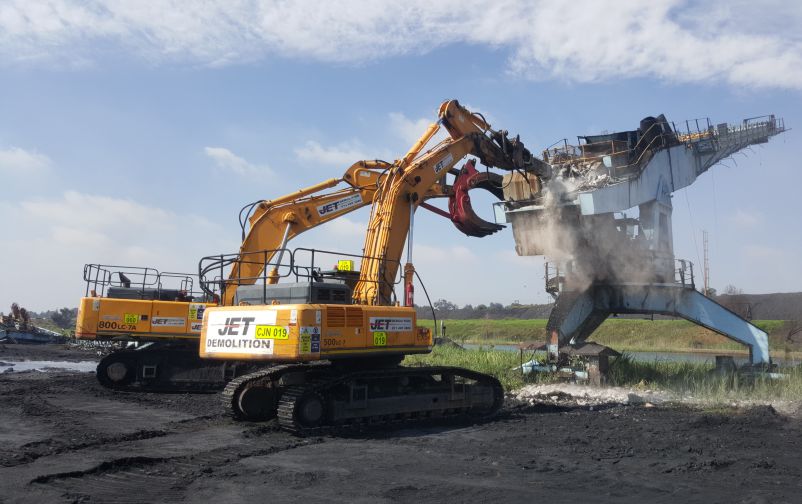 AFRICAN MINING BRIEF – Heavy Industrial Demolition from Mining to Power Generation
From mining facilities to the automotive, chemical and pharmaceutical, petrochemical, power generation, and steel and glass industries, Jet Demolition has both the expertise and equipment to undertake complex heavy industrial demolition projects.
The company's range of services extends beyond just demolition of redundant infrastructure and closing of shafts. "We provide turnkey value-add solutions to our clients that are not readily provided by any other service provider," Jet Demolition Director Joe Brinkmann comments. Examples include turnkey demolition, value recovery and rehabilitation of mine infrastructure in accordance with environmental regulations.
Jet Demolition has completed over 30 projects involving gold identification and recovery as part of turnkey demolition and rehabilitation of mine sites, identified and recovered 3.26 tonnes of gold from a single gold plant project, and carried out earthworks in excess of 1 000 000 m3 on a single plant project as an integrated turnkey demolition solution.
It has completed over 50 projects on gold mines with radiological hazards, complying with Convention on Nuclear Safety (CNS) and National Nuclear Regulator (NNR) requirements, including shaft areas, acid plants, uranium plants, radiometric sorting plants, flotation plants, and gold plants.
In addition, over 35 shafts have been sealed in accordance with Department of Mineral Resources (DMR) requirements (vertical and incline shafts, underground sub-shafts, permanent and temporary closure), complete with in-house structural design of the shaft-capping solutions suited to on-site conditions. The largest mining site fully rehabilitated by the company extended over 28 ha.
What gives Jet Demolition the leading edge in the heavy industrial segment is its extensive fleet, consisting of over 60 specialised demolition machines. These range from a 1 t skidsteer loader to a 102 t high-reach excavator. "We are able to match our plant and equipment to specific customer requirements in the various heavy industrial segments," Brinkmann highlights.
Specialised demolition work tools for its fleet of 28 excavators vary in size from a few hundred kilograms up to 15 tonnes. These specialised tools include hydraulic shears, hydraulic hammers, crushers, pulverisers, hacking and ripping tools, rockwheels and assorted bucket attachments, all fitted with quick-change mountings.
Most of the specialised demolition equipment owned by Jet Demolition is not available in South Africa from any other demolition company. Its primary demolition equipment is replaced on a 6 000 hour basis. This policy, together with stringent maintenance and a fully-equipped plant support department, contributes strongly to safe, reliable, and efficient operation of demolition projects.
Demolition methods conform to international best practice to achieve the highest practical levels for SHEQ. International best practice for demolition is based on high-level mechanisation, coupled with an intensive SHEQ programme, to achieve the highest levels of safety, productivity, and cost-efficiency.
"Our demolition projects are highly mechanised, thereby removing the direct physical interface between personnel and demolition work actions, as well as substantially reducing the man hours required. This improves the safety profile of the project dramatically in comparison to the standard labour-intensive methods otherwise used in South Africa," Brinkmann elaborates.
All demolition activities are carried out by experienced employees. "As heavy industrial demolition is our core focus, we have made a significant investment in developing and retaining an exclusive skill-base through the retention of full-time, long-term employees," Brinkmann stresses.
By providing turnkey solutions, Jet Demolition guarantees reduced costs, as multiple contractors are replaced by a single service provider. This ensures a fast-tracked approach to projects, as various activities can be undertaken simultaneously, as opposed to having one contractor following on from the next. "We are committed to finding the best and most viable solutions for our clients, based on streamlined design proposals that result in a cohesive approach," Brinkmann concludes.
SOURCE:  African Mining Brief