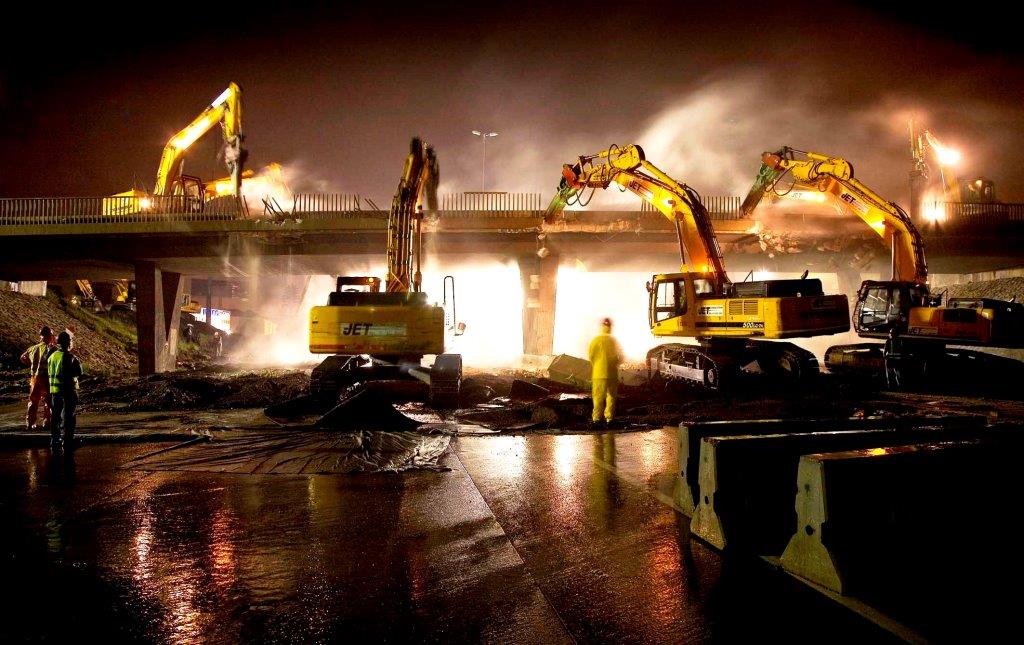 Engineering News 11/03/2011
Demolition of freeway bridges goes according to plan
As part of the ongoing South African National Roads Agency Limited (Sanral) road improvement project, civil engineering firm Grinaker-LTA commissioned demolition services provider Jet Demolition to demolish the old Le Roux bridge and the Nellmapius bridge over the N1 Ben Schoeman highway, in Midrand.
The demolition of the Le Roux bridge took place at the end January, while the Nellmapius bridge was demolished two weeks later.
Jet Demolition MD Joe Brink-mann explains that traffic had to be counterflowed, and redirected to the opposite side of the demolition site, owing to the fact that the stretch of highway had no on- or off-ramps to divert traffic flow.
"Working on this very busy stretch of road was the biggest challenge that we faced. We needed to rapidly demolish the concrete structures of the bridge, which reached within 1 m of the traffic. As a precaution, chip screens were put up in order to prevent stones and rock debris from reaching the road."
Both demolition projects took a combined 24 hours to complete, over a period of four nights, using a total of 11 Hyundai machines from High Power Equipment Africa. The projects were both completed safely, ahead of time and without any major delays.
The equipment used on the two projects included three R360LC-7 excavators, each with an operating weight of 36 t; five R210LC-7 excavators, each with an operating weight of 22 t; one R500LC-7 excavator, with an operating weight of 50 t; as well as two Hyundai HL 770-7 wheel loaders, each with an operating weight of 23 t.
The Nellmapius bridge is the final bridge on the Gauteng Freeway Improvement Project to be demolished by Jet Demolition.
http://www.engineeringnews.co.za/article/last-of-gfip-bridges-demolished-successfully-2011-03-11/rep_id:4136